This is the world's most comprehensive buyer persona guide ever created. This guide would help you to create, test, modify, retest buyer persona and reiterate the whole process, again and again, to get amazing results in your business ultimately transform your business. This guide divided in following eight sections. Each section has subsection.
Breakthrough Customer Growth for Business Coach
Breakthrough Customer Growth: How a Business Coach/Consultant can get a New Clients Today and Every Day
Pure insights specific to Business Coach/Consultant industry which you will find very relevant and directly applicable.
INTRODUCTION
The challenges of business coach/consultant
Q:1 Who our target market is?
Q:2 What business problems we solve for our customers?
General
Sales
Marketing
Customer
Competition
Losing customers or losing deals
Business Intelligence
Business Information
Sales rep/staff management
Customer service
Q:3 Which lead sources generate customers for us?
Q:4 Who our competitors are?
Q:5 Why customers choose us or buy from us?
Q:6 Why customers leave us?
25 Questions each business coach/business consultant should ask to get new customers NOW
Conclusions
You will get a PDF (1MB) file.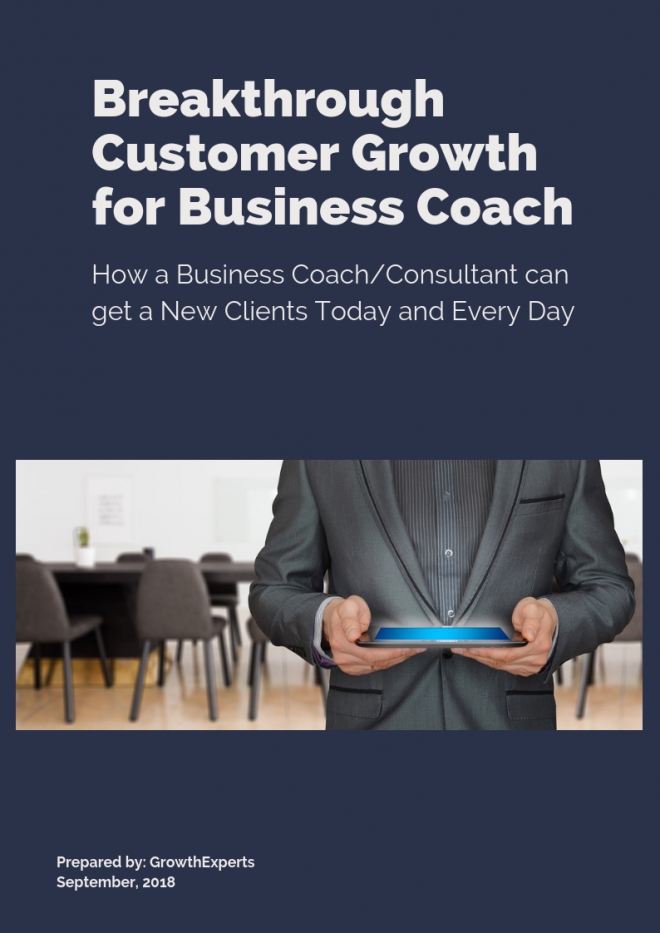 Fill in the details to download Free Sample